Real Birch Wood Flameless Candle Pillar - Recessed Top - 4" Width
Description
At first glance, the Real Birch Wood Flameless Candle Pillar looks like a wood log with a fire flickering on the wick. In fact, we crafted this candle with paraffin wax and patented moving flame technology to create a natural appearance without the fire hazard. Arrange this rustic candle next to artificial plants and antique decor.
Important Note about Luminara Birch, a Real Wood Finish: Our Birch line is crafted from genuine, natural birch wood, resulting in one-of-a-kind products. While the pictures provide a general idea of what the candles will look like, it's important to note that no two birch candles are exactly alike. Therefore, we cannot guarantee any uniformity for orders containing multiple candles or orders placed at different times. We believe that the appeal of these candles lies in their authentic, individual appearance, which is due to the use of real birch. We encourage those who purchase items from our Birch line to appreciate and celebrate their unique variations.
Product Features
Size: 4" Diameter; Available in 5.5" and 7.5" Heights
Color: Real Birch Wood
Edge: Recessed Top
Form: Pillar
Scent: Unscented
Finish: 

Wood Grain

Material: Paraffin Wax
Use: Indoor
LED Technology:

Real Flame-Effect

On/Off/Timer Operation: Switch on Bottom of Candle
Timer: 6 Hours On/19 Hours Off
Remote Ready: Yes
Remote Included: No, Sold Separately
Batteries Required: 2 AA (Not Included)
Battery Runtime: 200+ Hours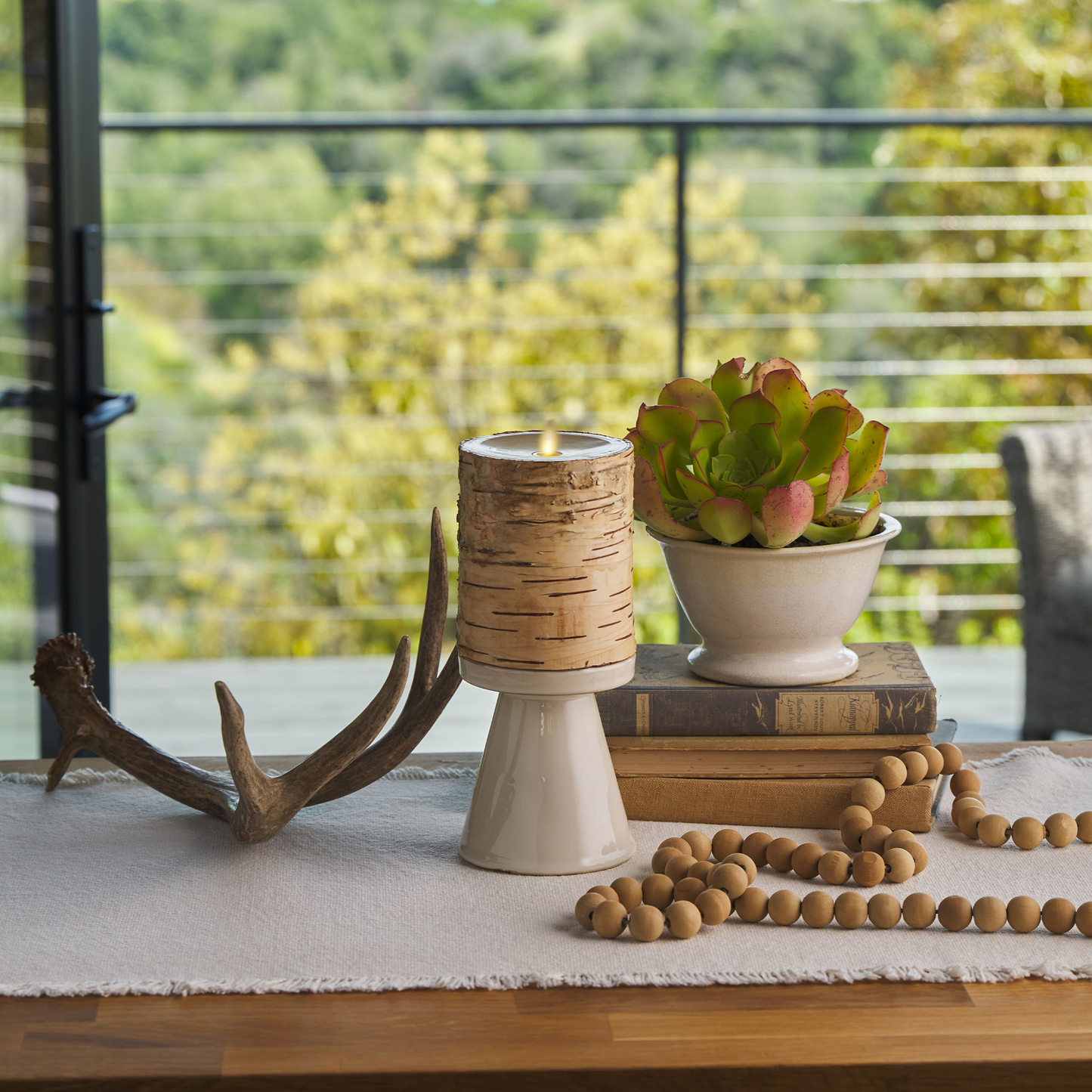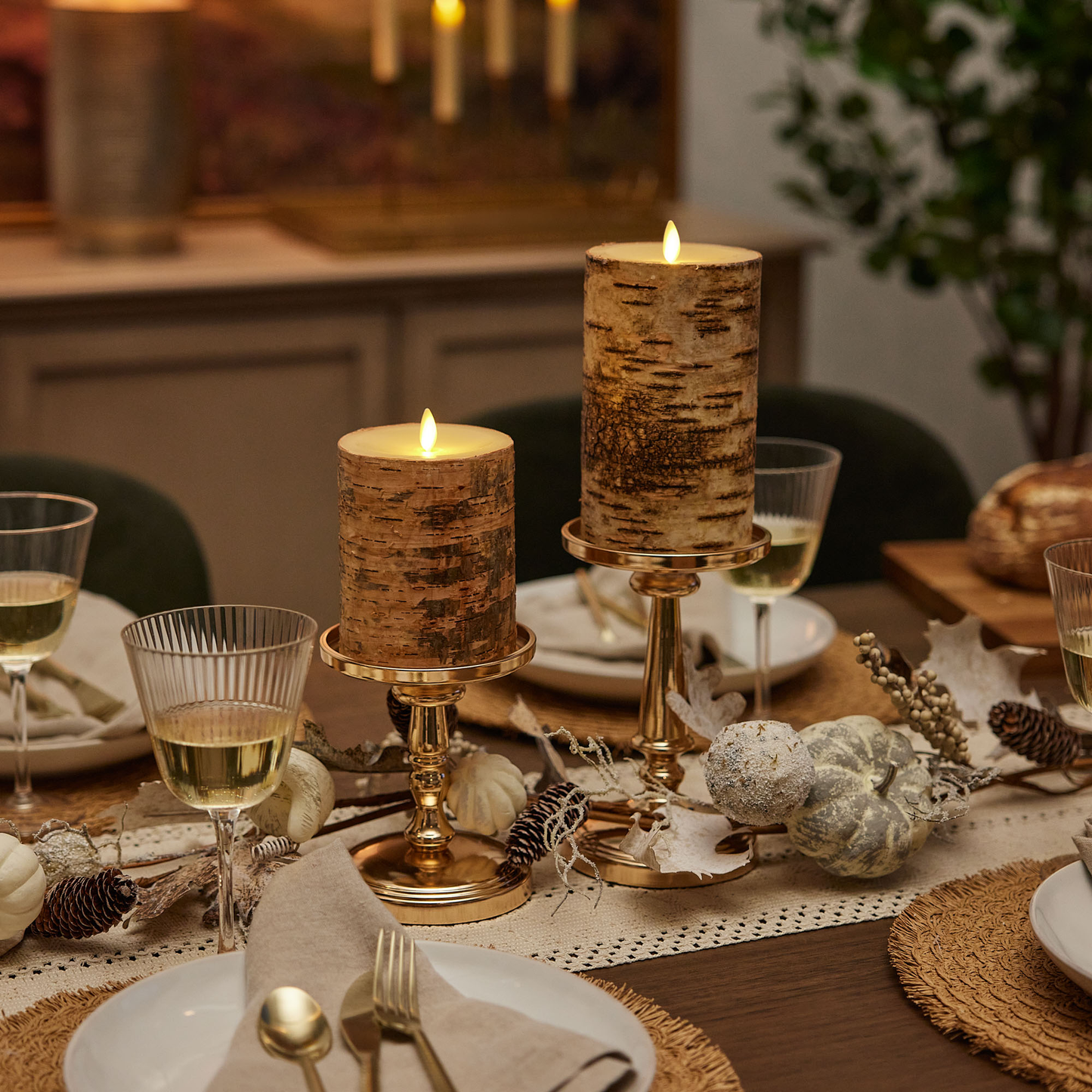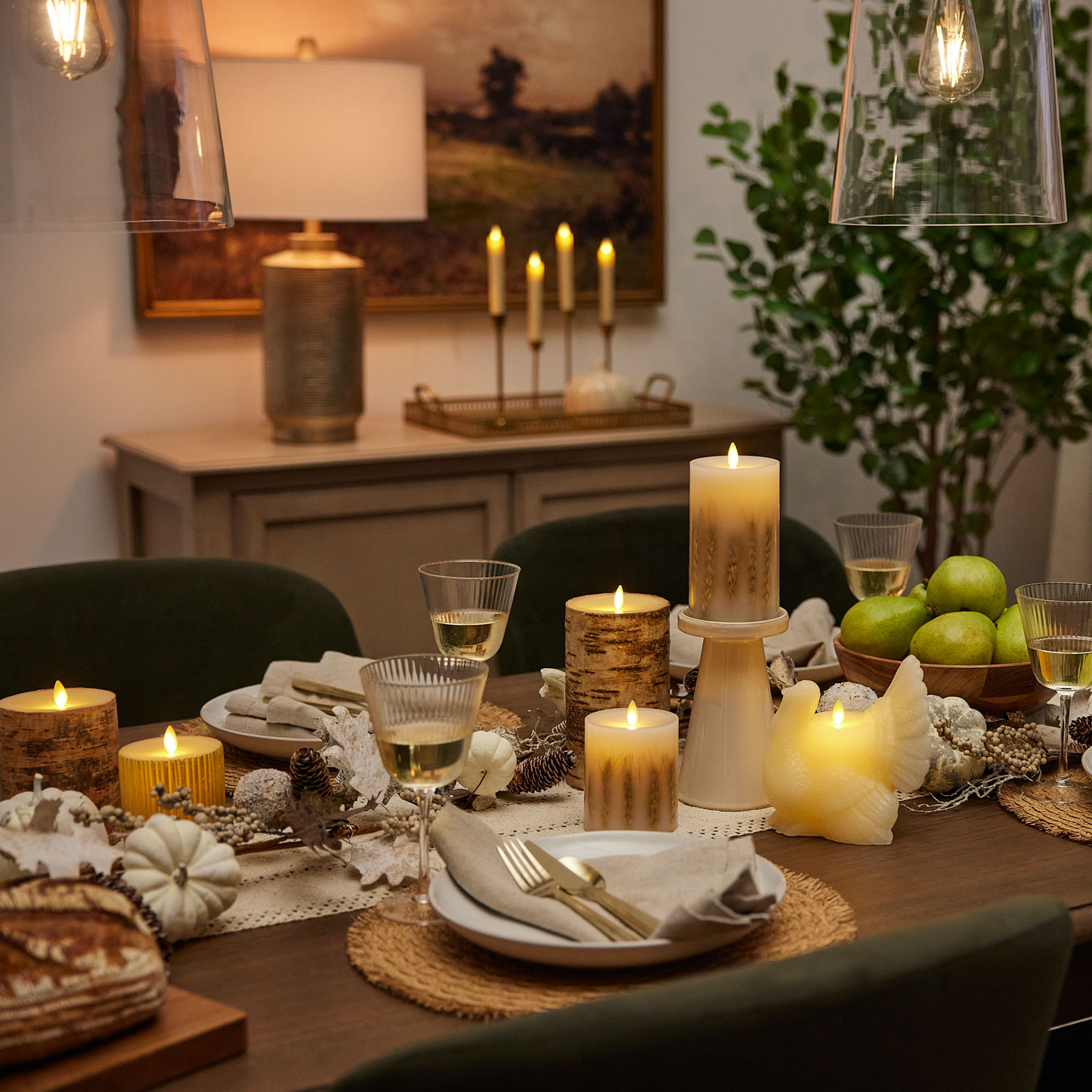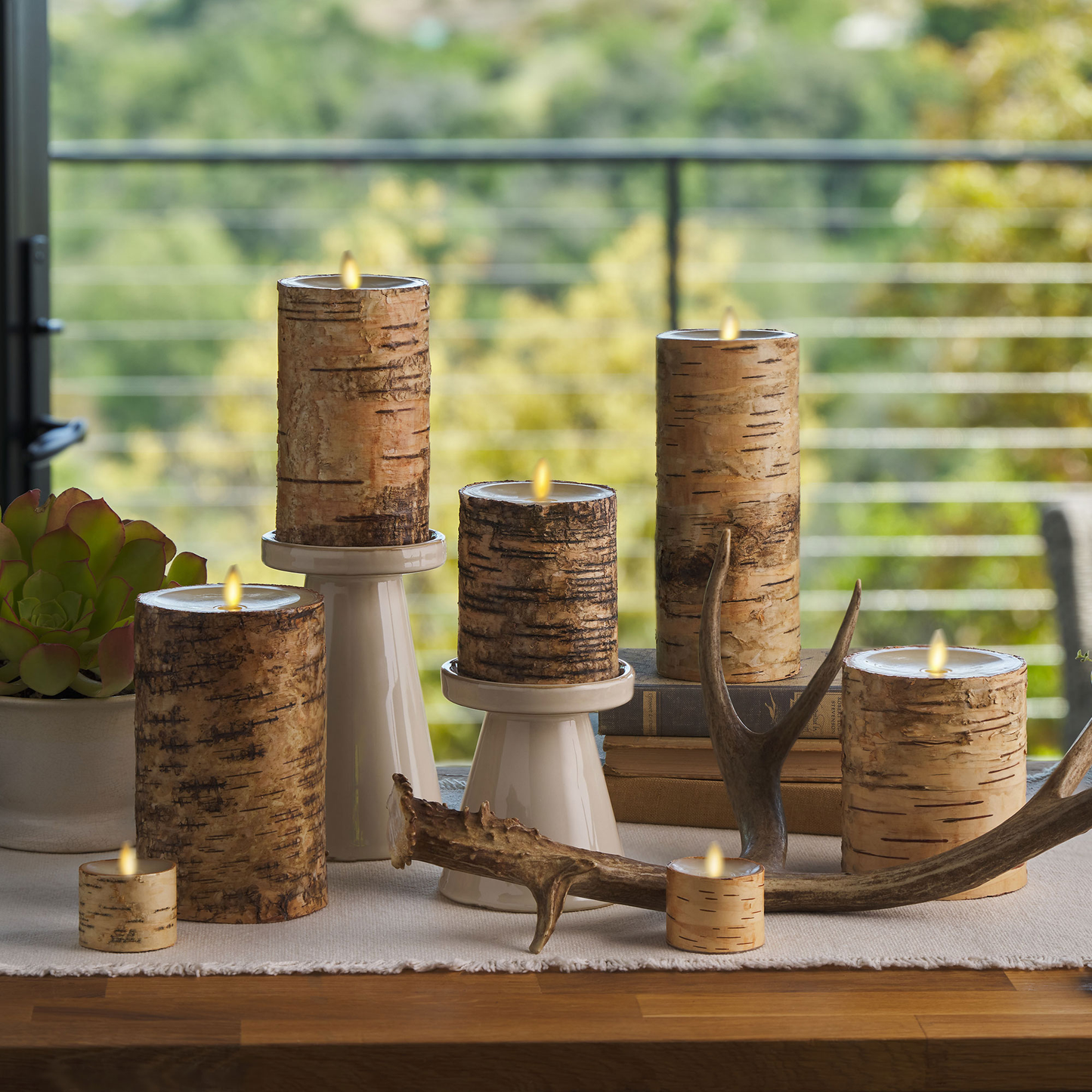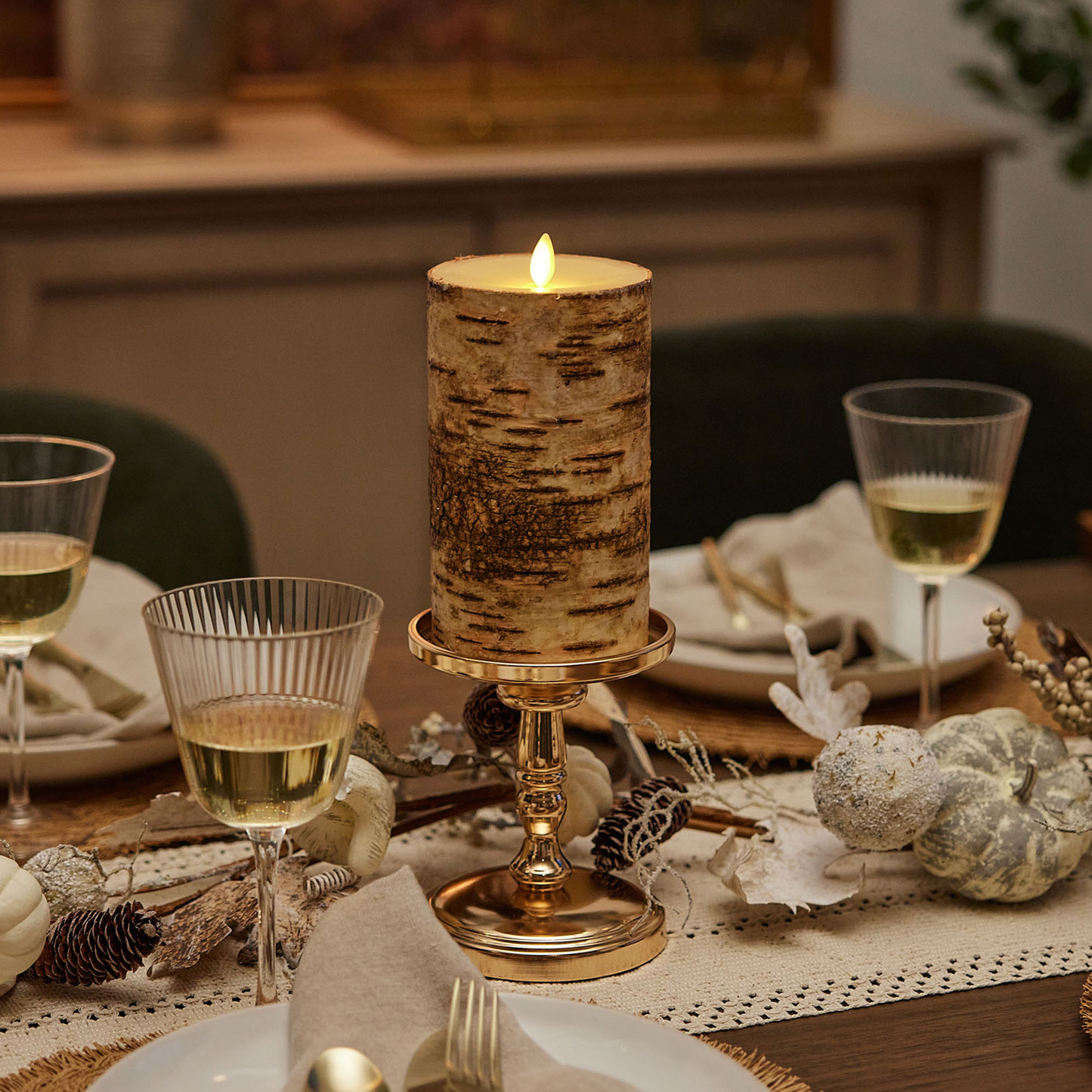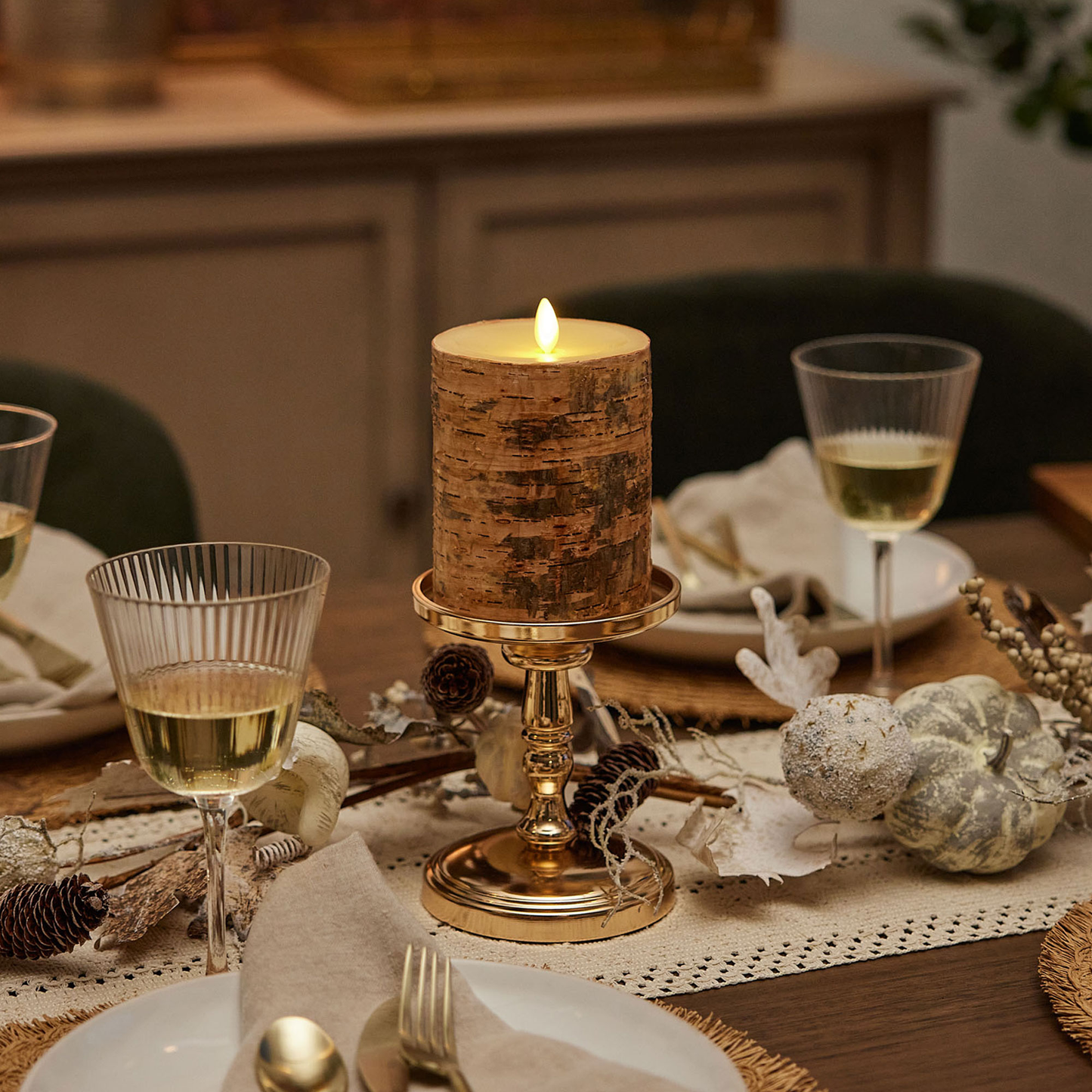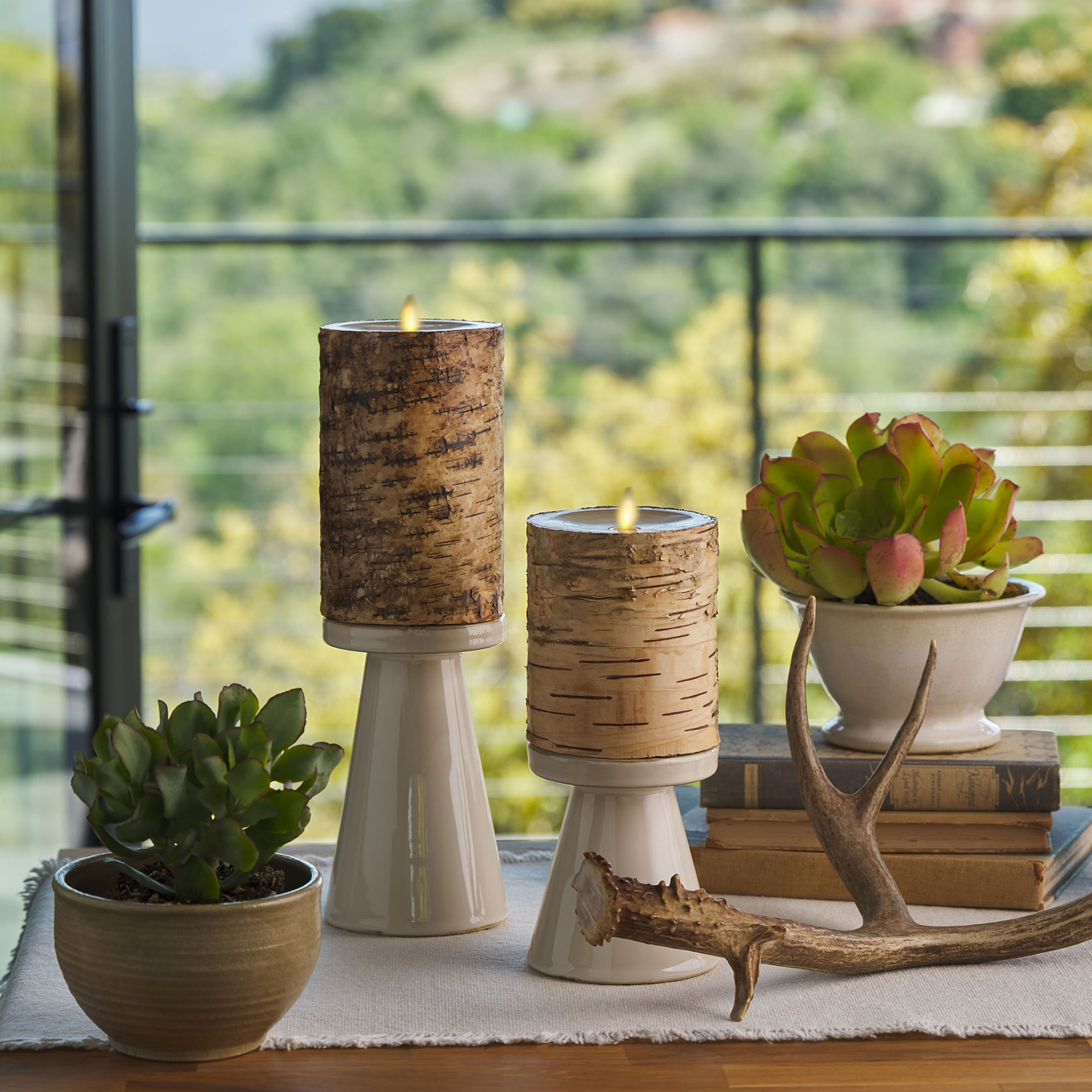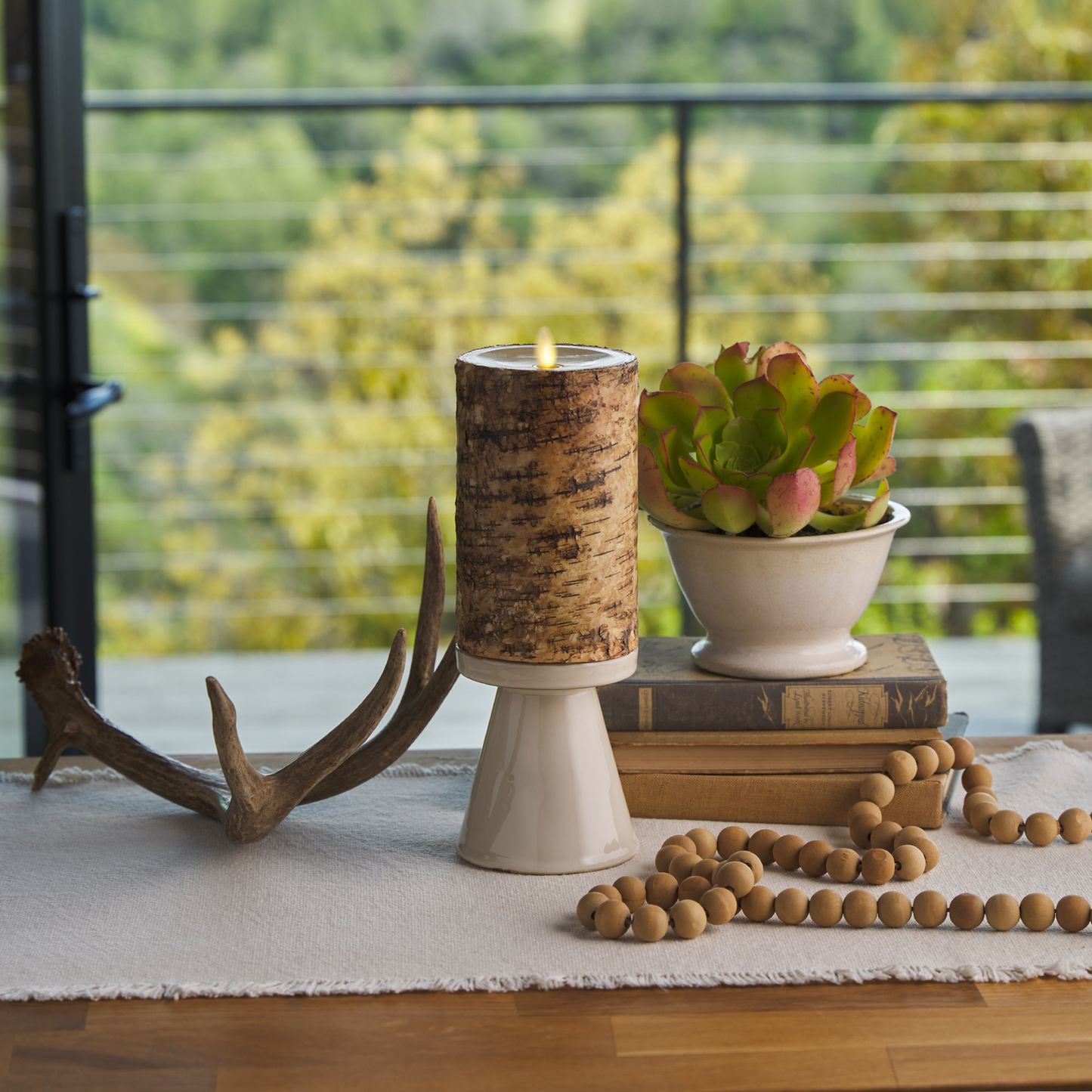 Moving
Flame®
Technology
Keep Your Home & Family Safe
Hand-poured Meets High Tech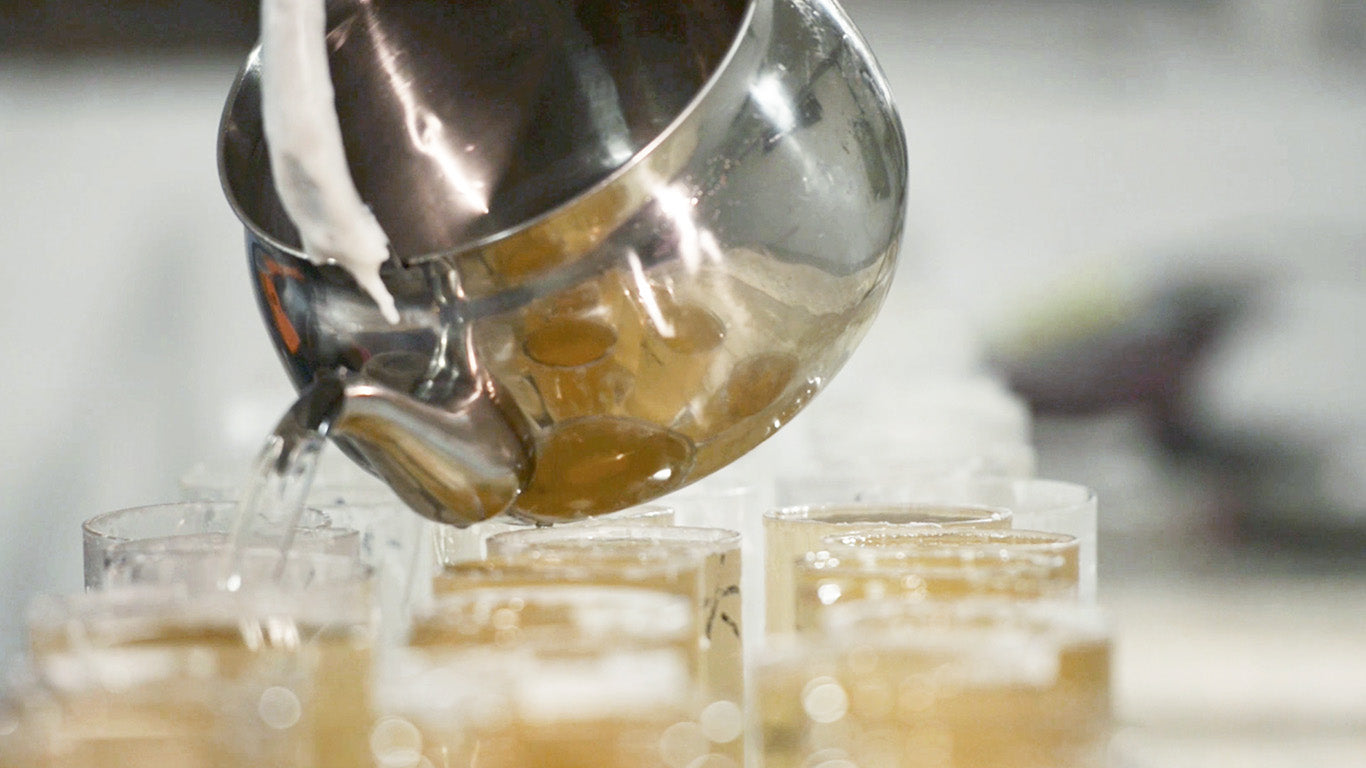 EXTERIOR SHELL
Hand-Poured Wax
The exterior shells of our candles are made through the traditional, hand-poured wax method of candle making. The technology inside of the candle brings the realistic effect of a moving flame.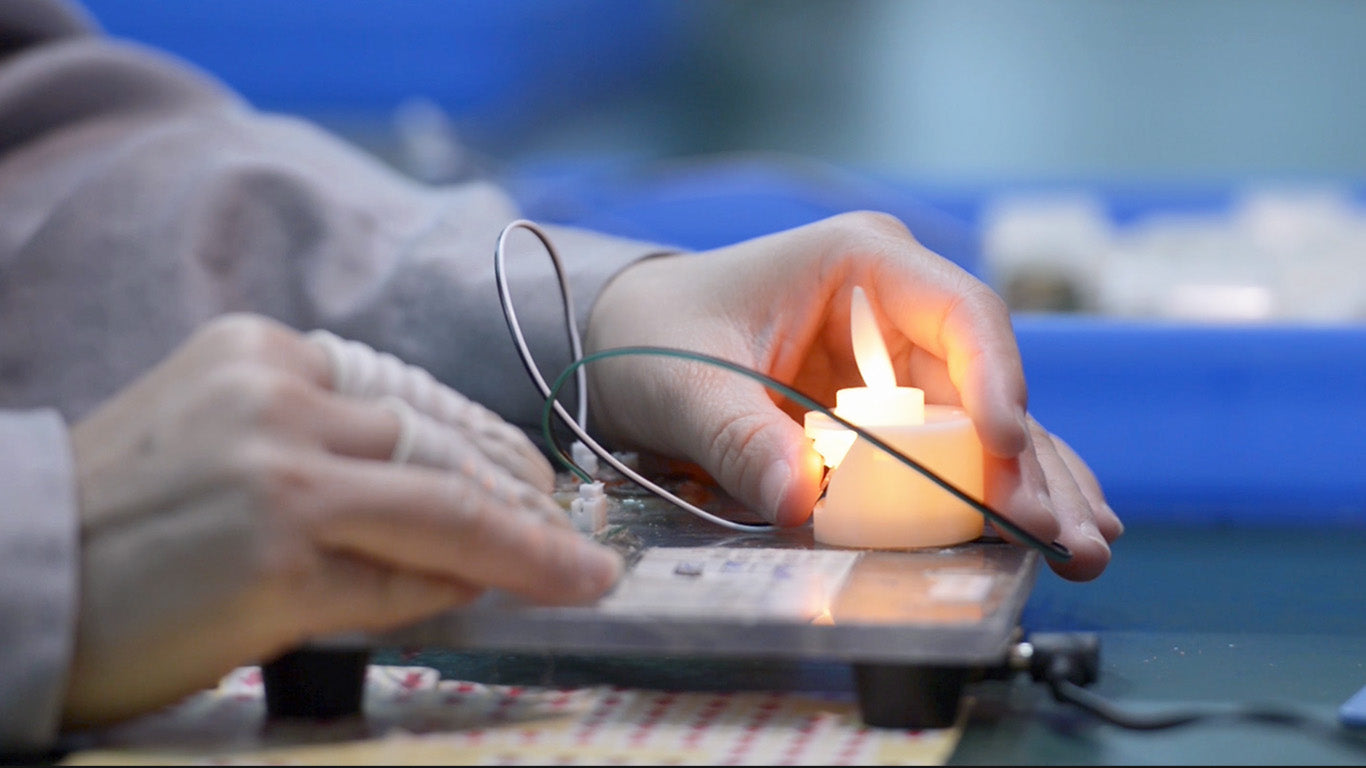 MOVEMENT
Magnetic Field
When you turn on your Luminara candle, the batteries send power to a coil inside that generates a magnetic field. A second magnet interacts with the magnetic field to produce random movement for the flame piece.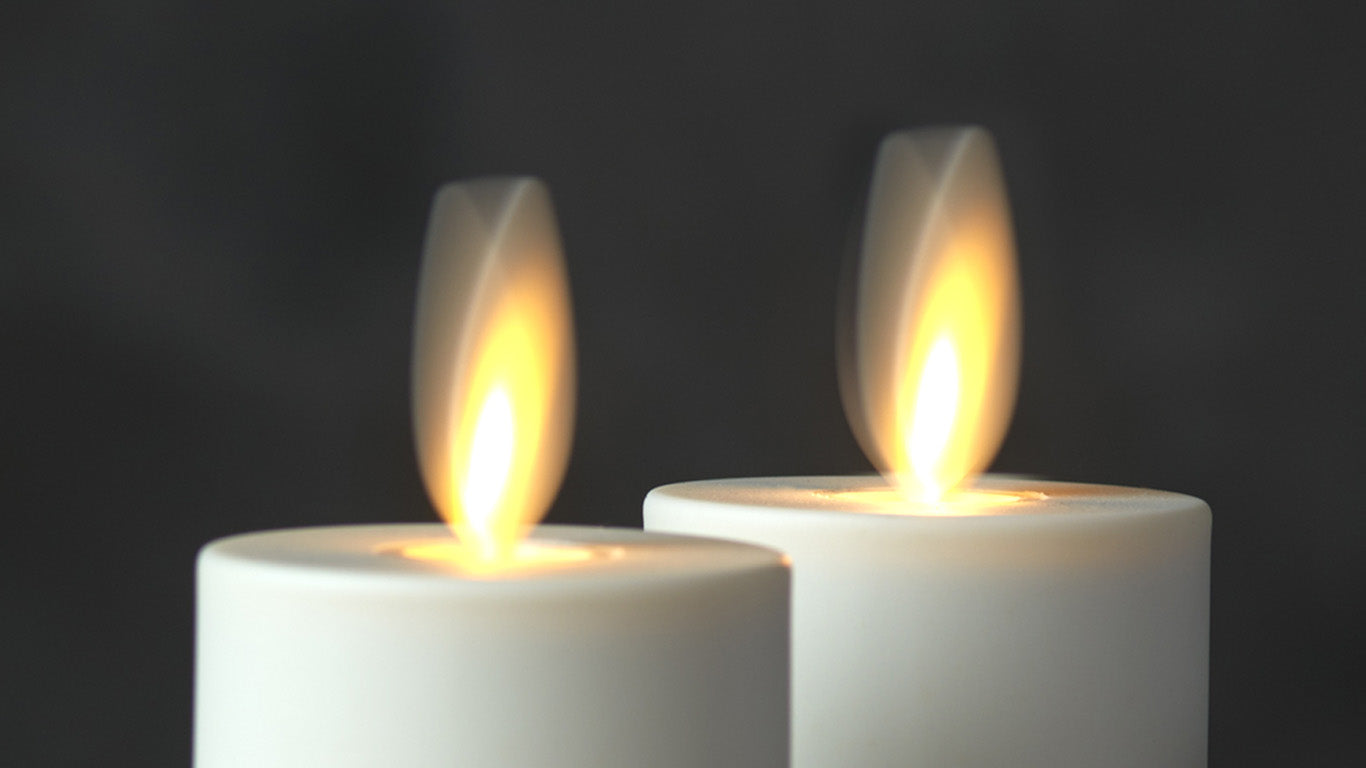 COLOR
Candlelight LED
Our LED light shoots diagonally to the center of the flame piece creating an effect that convincingly reproduces the look of a traditional burning candle.